Watch FULL MOVIE here!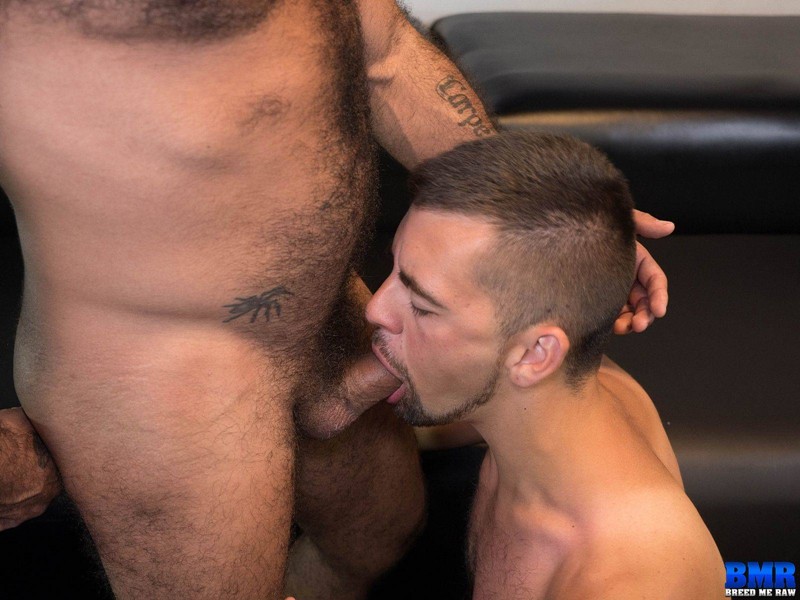 Breed Me Raw says: Alessio Romero and Josh Stone are the perfect couple for smoldering hot sex. Both are as different from the other as night and day. While Alessio is big and beefy and full of tattoos, Josh is slender and unmarked.
Even better still is that he's submissive to the big burly daddy's brutish ways. Initial kissing, pit licking and nipple chewing aside, Josh drops to his knees and sucks Alessio's big uncut cock. But this isn't just a blowjob.
It's a major face fucking! Alessio grabs the back of Josh's head and skull fucks the twink-like bottom, leaving him gasping for air when Alessio eventually, finally pulls out. But does Josh complain? Hell no! He takes everything Alessio has to offer like a true sex whore.
Clad only in his jockstrap, ass up in the air, Josh clearly enjoys the rimjob Alessio gives him. Once spit-lubed, the beefy hairy tattooed daddy thrusts his big fat uncut cock inside Josh's skinny ass and goes to town fucking the bareback cum pig.
After some ass-to-mouth, where Josh once again all but gets his breath cut off with that big dick down his throat, Alessio flips him on his back. Daddy rims his power bottom a bit more before once again sliding that fat piece of meat up his ass.
He then grabs hold of Josh's neck and bareback fucks the slut until he's had his fill. Luckily, it doesn't happen for a good long while. And when Alessio unleashes his seed, it's big, thick and ropey.
Josh eagerly sucks it out then impales himself right down on daddy's dick to fuck himself and cum inside his own jockstrap.