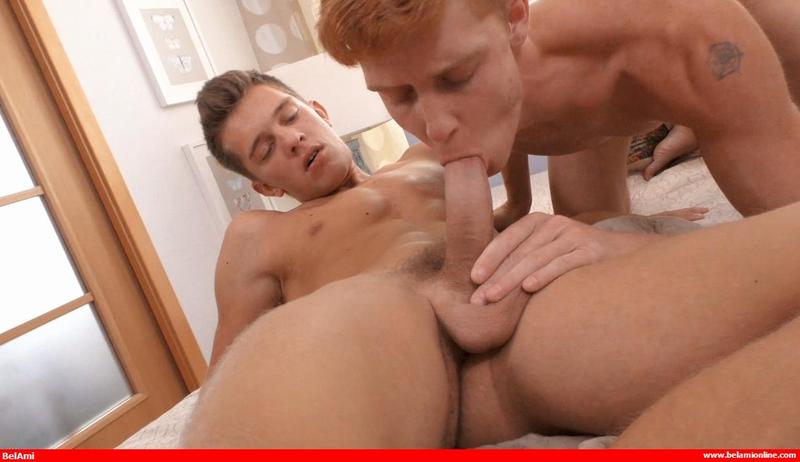 Belami says: Naked young hunk Felix Gaul joins sleepy head Ronny Lamarr between the bed covers reaching around and holding him intensely, making out, kissing passionately.
Ronny awakens and whispers sweet nothings into Felix's ear as Felix gently plants his moist lips all over Ronny's naked body licking his nipples and making him hard.
Felix's inquisitive mouth continues down to Ronny's crotch where he is already sporting a super thick erection.
Ronny moans loudly as Felix blows his huge thick erect uncut dick running his tongue from the big mushroom tip to the base of his balls.
Then with Felix spread out on his back, Ronny takes control swallowing his hard uncut cock whole before polishing his cockhead with his tongue and playing with his foreskin.
Ronny certainly knows how to pleasure a guy.
He then bends Felix over, exposing his hairy ass hole tapping it with his fingers before running his tongue up and down his ass crack.
While Felix is jerking his own cock, Ronny inserts a finger massaging his asshole carefully at first, as Felix's moaning grows louder.
With Felix and Ronny in spoon position, Ronny slides his erect fuck tool deep into Felix's waiting boy hole, kissing him as he pushes it all the way home.
Ronny parts Felix's ass cheeks opening up his hole for his hot cock.
The ass pummelling continues with Ronny forcing his huge erection all the way in until his balls slap soundly on Felix's ass.
Felix just loves the feeling of Ronny's thick uncut dick moving inside him, first in all the way then out until the tip of his dick is almost out.
The sexy boys switch positions a number of times with Felix now in reverse cowboy.
Now Felix is in control and he pushes his ass hole down onto Ronny's throbbing cock, both boys almost losing control and getting to orgasm a number of times.
These expert fuckers know how to keep from cumming until they are both ready to unload.
Ronny now power fucks Felix his hot dick hammering away like a power drill.
Felix then cums with Ronny's hard dick still deep in his hole, his jizz sprays all over his ripped abs.
Ronny licks up the mess before delivering his own huge cum load in Felix's face. The boys kiss once more as they relax in each other's arms.