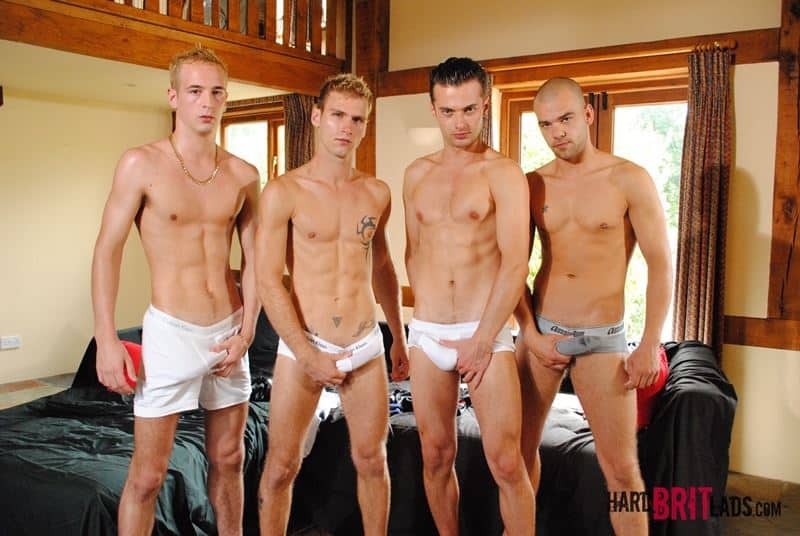 Hard Brit Lads says: The GangBang that started off with a lot of great oral now gets even more intense in part 2 with Justin Harris, Leo Helios, Luke Desmond, and Matt Brooks.
You're about to see some of the most extreme arse stretching ever seen on HardBritLads and the first position just might get a few of you spunking in your pants right away.
Stunning young muscle bottom Justin has two huge throbbing cocks in his mouth, 9-inch Luke D and super hot Leo. Meanwhile, Matt rubs his meaty dick against Justin's hole before pushing his extra thick cock into his arse.
Matt doesn't start gently. He goes full throttle, pounding Justin hard. Justin can just about handle it as he also has Luke's massive monster crammed down his throat.
The lads then switch. Matt pulls out, moves round to get sucked next to Leo, and Luke eases that huge nine inches inside, pushing it all the way in, making Justin moan. He fucks with long strokes, showing the full length as Matt fucks Justin's face and throat.
Next up is Leo. He moves round as Luke joins Matt in getting sucked. Leo fucks hard as Justin gets face fucked by Matt and Luke. After this intense spit roasting, the lads split into couples, with Matt fucking Leo and Luke fucking Justin.
Matt is one of the hardest and least forgiving tops on HardBritLads and it's a brave bottom who can take such a pounding.
Despite having the most enormous dick, Luke D loves to get fucked, and now it's his turn. With Matt on his back holding his girthy cock up, Luke lowers himself onto it and leans back. Justin and Leo stand on either side of Luke, jerking off.
As he gets drilled by Matt, Luke takes turns sucking Leo and Justin. Then it's time for something different.
The lads form a line, each pressed up against the back of the one in front. At the front, Justin bends forward and Luke slides his monster meat inside. Behind Luke, Leo pushes his cock into Luke's arse.
Finally, behind Leo is Matt, who squeezes his meat into Leo. All four are connected, with Luke and Leo in the middle, simultaneously fucking and getting fucked. Amazing shots from below show all cocks and arses fucking in a line.
I have to say, I was amazed to see the guys doing this, and really fucking hard as well. It's one of the hottest things I have ever seen! For the final position, we have something truly amazing.
If you haven't spunked by this point this will certainly get the jizz flying. Leo lays on his back, holding up his throbbing cock and Justin sits on him, his smooth arse rubbing against Leo's dick. Luke stands behind Leo, his 9 inches in Justin's face.
Justin starts sucking. Matt takes hold of Leo's cock and pushes it inside Justin, who rides for a bit as he sucks Luke. Matt watches, thick meat throbbing. Then Justin bends forward. With Leos's cock still inside him, Matt climbs on top and squeezes his fat dick into Justin's hole.
Justin makes a lot of noise as he's never taken two cocks before. And with the thickness of Matt's meat, the double penetration is an intense stretch for Justin.
But with his mouth full of cock, his sounds are muffled. Leo and Matt both slide their cocks back and forth, fucking Justin. He can barely take it, but the fucking continues. By now, the lads are gagging to shoot their loads. Luke lays down to wank whilst the others stand around him, jerking off in his face. Justin shoots first.
It's an incredible cum shot, with several big jets shooting hard, completely drenching Luke's face and mouth in spunk. It's so good I show it twice, once at normal speed, once in slo-mo.
Next, Matt cums. It's a thick, heavy load and plenty of it. He shoots over Luke's cheek, squeezing the last few drops into Luke's mouth before getting the spunk sucked off the end of his cock. Leo shoots next. Hard jets of jizz shoot over Luke's face and onto his chest.
Some jizz hits his face and into his mouth as well. By now Luke is completely soaked and he beats away at his massive cock. He quickly shoots his own load, thick and creamy, spunk landing in a thick pool on his abs.
Exhausted, the lads squeeze out the last few drops of spunk from their still solid cocks.